The cupping was locally observed and was found to be underneath the bedroom window. This finding confirmed my hypothesis that there could be a water infiltration from what I had gathered earlier during the exterior inspection.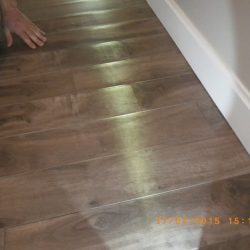 The house was just a few months old and more work was needed with the landscape. When outside, I noticed that the ground behind the house was sloping towards it. Signs of surface ground erosion and standing water were also noticeable. Those were the first signs that told me there could be something wrong with other systems or components of the house. The grading immediately around a house needs to slope away from it to avoid water accumulation around the foundations. Too much surface water seeping along the foundation wall will overcharge the perimeter drain around the footing, thus leading to possible infiltrations. While the primary role of the perimeter drain is to get rid of rising groundwater that could be pushing against the slab and finding its way in from underneath the walls and every other crack in the slab, the drain can easily be overwhelmed from the surface water. This is also why downspouts cannot be connected to the perimeter drain and must direct water away from the house.
The bedrooms windows in the basement were equipped with window wells. Upon inspection of the wells, I noticed that sand was leaking in from the sides in one of them. The drainage column was not properly installed nor protected from debris and a fairly good amount of sand could also be seen at the bottom of the column.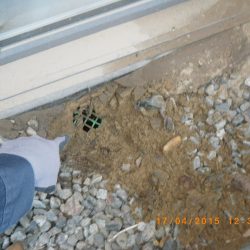 Window wells are important components of the drainage system. They need to be properly anchored to the foundation and sealed to avoid infiltrations from the sides. Poor surface drainage and an inadequate window well installation make for the perfect combination for water infiltrations. Those telltale signs were confirmed when the cupping was later discovered.
The bedroom floor needed replacement. Proper grading of the soil was also needed along with a proper reinstallation of the window well and the drainage column. Verification and cleaning of the perimeter drain were also required. Those things are, of course, not to be expected in a brand new house but we never know. The source of a floor trouble can often be linked to another problem that comes from outside. Which was the case in this situation.