Last month we published an article on How to test your Wood Moisture Meters. This month we're looking into hygrometers.
Humidity readings are critical for wood and natural product flooring inspections. The accuracy of our test results can make a difference in the outcome of a claim due to the warranties and warranty exclusions. We, as Certified Professionals, have the responsibility to ensure our equipment is functioning correctly and the recorded measurements are as accurate as possible.
Since no thermo-hygrometer is 100% accurate, we recommend including the published accuracy rate of your hygrometer in your reports. Your owners manual should list the spec. Example: [ ±2% accuracy between 20 and 90% RH]
Did you know?
1. Hygrometers record humidity
2. Thermo-hygrometers record temperature and humidity
3. Psychrometers record humidity, temperature, wet bulb, and dew point.
Thermo-hygrometer Testing:
We've compared the accuracy of some top brand thermo-hygrometers and less expensive household units — the results were disappointing. The Extech and TotalCheck are reading within the manufacturer's specs. The white AcuRite (far left) is the runner up in the low-cost hygrometer group.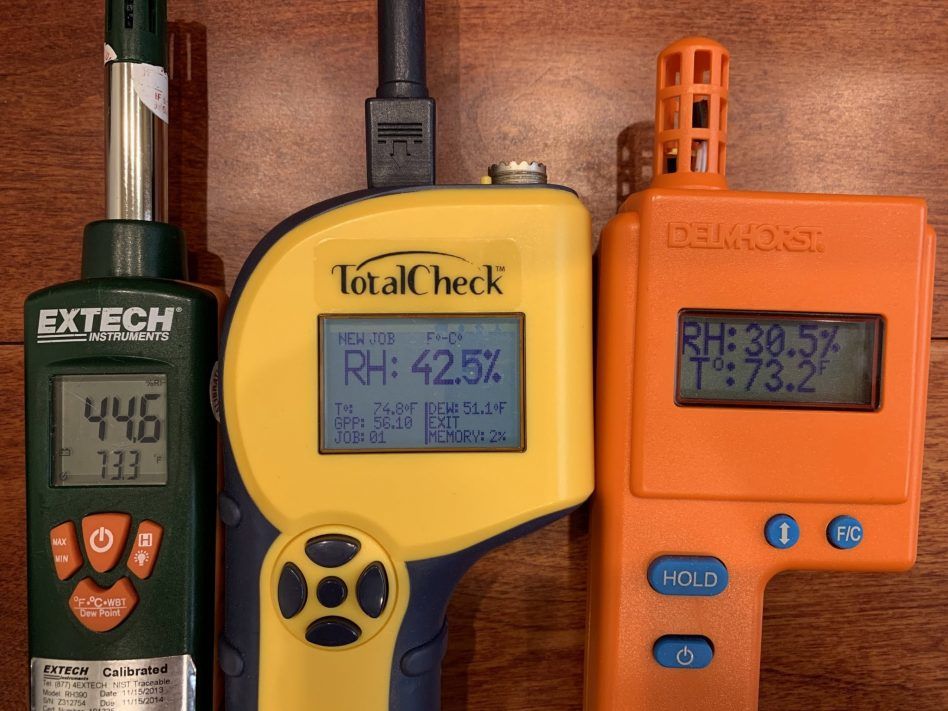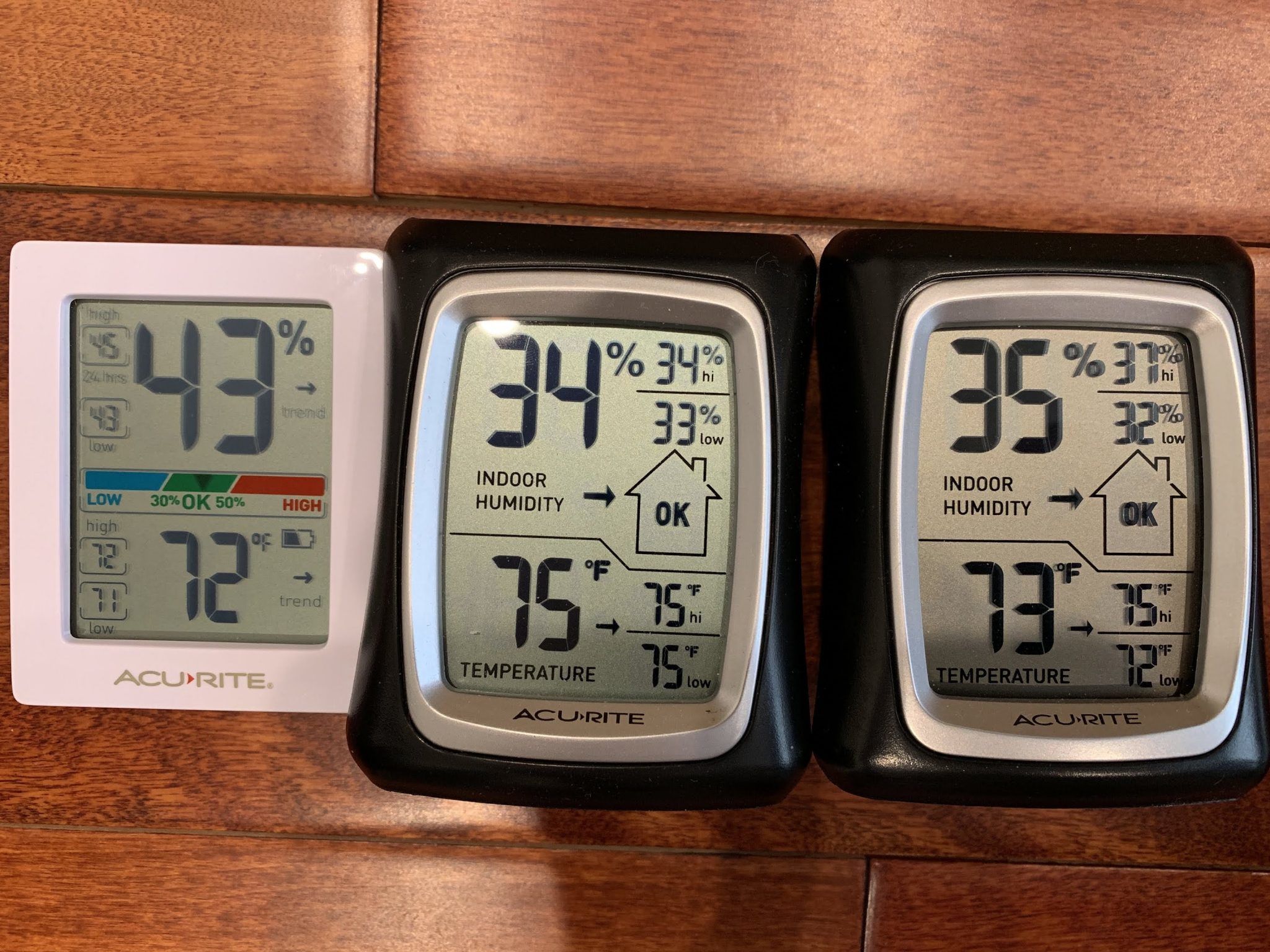 How to test your Hygrometer
If your hygrometer didn't come with a calibration test kit, there are methods for checking their accuracy. These tests will help you determine when it's time to get your meter calibrated, or when it's time to switch to a meter that you can calibrate yourself.Method 1.
Dampen a few paper towels and wrap the hygrometer in them for approximately 30 to 45 minutes (be sure they are not soaking wet). Once the time has elapsed, unwrap the hygrometer and immediately examine humidity level. If the calibration is perfect (few are), the hygrometer will be reading 100% relative humidity.Method 2.
When water (H2O) and salt (NaCl) are in a saturated solution at equilibrium, the result is 75% relative humidity. This solution provides for an excellent point of reference to calibrate a hygrometer.
a. Fill a bottle cap (from a water or soda bottle) with regular table salt.
b. Place a few drops of water on to the salt to create a dampened mixture. Make sure you do not add too much water where the salt dissolves or turns into a liquid solution.
c. Next, place the cap and your hygrometer inside a ziplock bag or a plastic container and seal it.
d. Wait 5-6 hours and check the value on your hygrometer.
e. If the reading is 75%, your hygrometer is accurate, and calibration is not necessary.Method 3.
Purchase Boveda One-Step Calibration Kits in 32% and 75% RH Levels. Seal one of the calibration packets and your hygrometer in an airtight container or Ziplock bag. Allow to sit for 24 hours and take readings.
Self Calibrating Hygrometer Options:
There are many less expensive hygrometers available that can be tested and calibrated by the user. Their response time may be slower than a professional unit, but they can be self-calibrated regularly.
Extech RH300-CAL: Humidity Calibration Kit works with:
Extech 445815:

Measures 10% to 99% RH
Accuracy: ± 4% RH within 25% to 85% RH

Extech RH300:

Measures 10% to 90%RH
Accuracy:±3%RH
Response Time- 60 seconds typical
AcuRite 01083M
Measures 1% – 99% RH
Accuracy +/- 2% RH with manual calibration option
Advanced Training & Online Courses at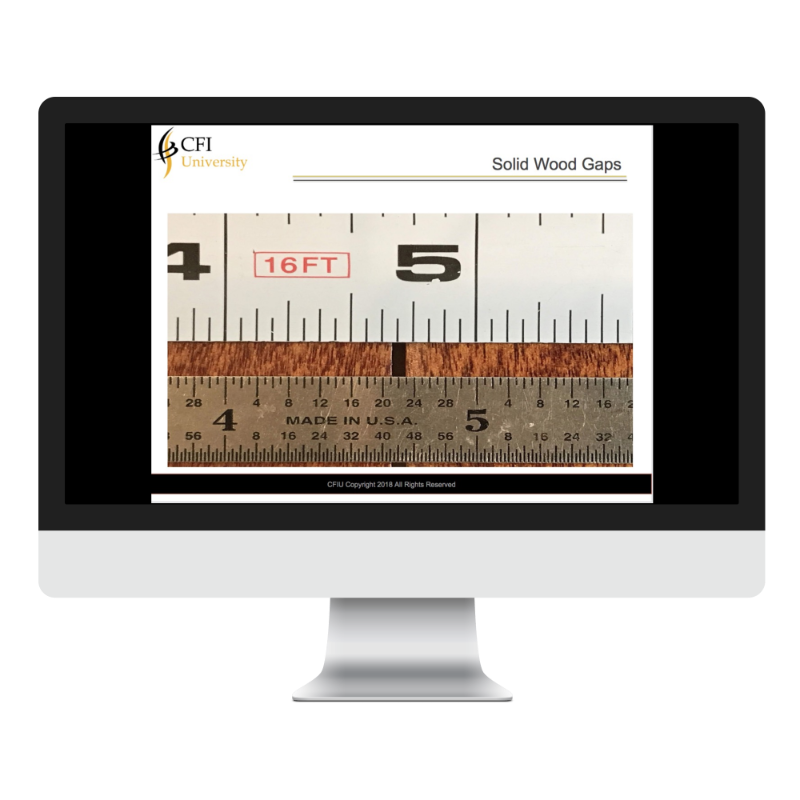 Certified Flooring Inspectors University:
Ricky Bunker 843-222-1029
Linda Lockwood 609-660-1717