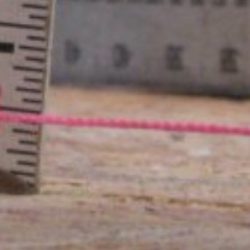 Luxury Vinyl, engineered wood, solid wood, ceramic tile, laminate flooring, VCT, VET, and Carpet tile have specifications for subfloor flatness, and those specs must be honored to avoid failures.
Did you know a 10′ piece of string can save you hundreds or thousands of dollars? That's right, bright pink or yellow Mason's twine only costs about $7.00 per 250 ft. or 28 cents per 10′ section.
What does the string do? Checks floor flatness–nothing fancy, anyone can do it, but someone has to do it or be willing to pay the price later.
Why gamble?
Develop a plan for success. Test flatness, moisture, and subfloor quality before the day of installation or run the risk of failures and expensive repairs or replacements.
Just our .28 cents worth

Certified Flooring Inspectors University:
Ricky Bunker 843-222-1029
Linda Lockwood 609-660-1717