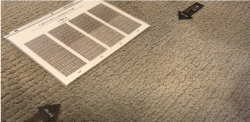 Become a Certified Carpet- Flooring Inspector
When a flooring issue turns into a consumer or end-user complaint, a flooring inspector is hired to determine the cause.
Proper training and certification are required for success in flooring inspections.
At Certified Flooring Inspectors University (CFIU), flooring Inspectors are trained to determine the cause of the failure by investigating the specified problem(s). The inspector is trained to obtain the complaint history, detail their observations, perform field tests in the appropriate areas, and provide their client with a concise conclusion, including what caused the problem and who's responsible.
At Certified Flooring Inspectors University, we focus on what's needed most; how to inspect, measure, test, and prepare a well-written report.
CFIU Inspectors earn their certifications through a series of studies, practice, and testing. CFIU inspectors are proud of their accomplishments because they truly earned their certifications and can begin their inspection career confident in their skills.
A major difference between CFIU and other organizations is that we are here for you and help inspectors along the way. CFIU Instructors and Mentors are here before, during, and after the Training and Certification — Because we want you to succeed!