Looking to get certified as a Carpet-Flooring Inspector? Check out the details on this page: Get Certified
CFI University Virtual Hard Surface Flooring Inspector's Class
Congratulations to the attendees of CFI University's first virtual class for Carpet-Flooring Inspector Certification!
Sadly, the Covid-19 pandemic has impacted our lives in many ways, and like post- 9/11, things may never be the same.
To minimize delay for CFI University inspectors in training, we had to think outside the box and decided to hold a virtual class. To make this a positive experience for them, we had to revise the class training. Our goal was to give these new inspectors the best possible experience outside of a live-class.
The results of a class poll have convinced us that revisions made to the class training resulted in a huge improvement, one we didn't recognize until we were in the process of building it, and later confirmed by the poll results. The poll also proves a virtual class can outperform any live class available for Flooring Inspector Certification.
Improvements to CFIU's training curriculum and the participant's feedback have convinced us to offer regularly scheduled virtual training classes for Carpet-Flooring Inspector Certification. CFI University's Virtual Class provides upcoming inspectors with a better than good class and hands-on-training.
In addition to better-than-classroom training, CFI University's Virtual Classes saves on travel, hotels, car rentals, and meals away from home. The cost involved in attending in-person classes is better invested in tools and equipment new inspectors need to invest in.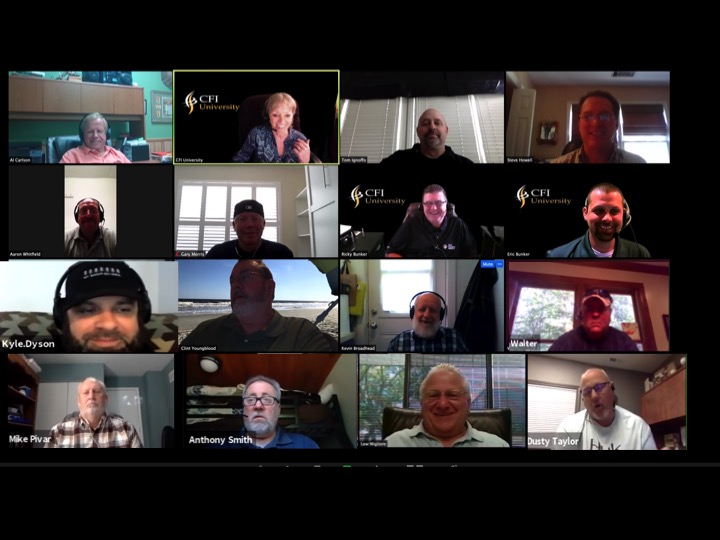 Upcoming Flooring Inspectors
Al Carlson
Tom Ignoffo
Steve Howell
Aaron Whitfield
Kyle Dyson
Clint Youngblood
Gary Morris
Walter Dudley


(Update)



Guest Speakers
| | |
| --- | --- |
| | |
| Lew Migliori | Dusty Taylor |
CFI University Mentors
| | | | |
| --- | --- | --- | --- |
| | | | |
| Mike Pivar | Anthony Smith | Eric Bunker | Kevin Broadhead |
CFI University Instructors
| | | |
| --- | --- | --- |
| | | |
| Ricky Bunker | Linda Lockwood | Eric Bunker |