Looking to get certified as a Carpet-Flooring Inspector? Check out the details on this page: Get Certified

When inspecting a hardwood floor for gaps, discoloration, cupping or buckling, accurate moisture readings are needed, so it's important that wood flooring inspectors (and installers) know how to test their meters to ensure they're getting accurate readings.

Since most hardwood flooring problems are related to moisture issues, accurate invasive (pin), moisture readings are needed to determine the cause of the complaint.

Invasive moisture testing is especially important for determining the cause of gaps between wood strips or planks and in cupping claims for determining the moisture difference from the top to the bottom of the boards. Since we can only put so many pinholes in a wood floor without upsetting the consumer, we often rely on non-invasive moisture meters. Non-invasive meters are the perfect choice for moisture testing, provided the meter is providing accurate moisture readings that are comparable to a properly functioning invasive (pin) meter.

The most accurate non-invasive meters for wood flooring should have species and depths settings, which narrows the choice to dual-depth Ligno-Scanners SD or SDM. Due to their versatility, Ligno-Scanners are the most popular non-invasive meters used by Certified Wood Flooring Inspectors.

Non-invasive meters without depth settings are best suited for finding wet "hot spots" and for comparing moisture between affected and non-affected areas. These meters won't provide moisture readings comparable to a pin meter because they're reading the wood floor and subfloor moisture between 3/4″ to 1-1/4″ depths.

Calibration blocks are available for most moisture meters. If you don't own a calibration block, the steps below will help you determine if your moisture meter is functioning properly during an inspection. Your meters can be tested by oven drying wood, or with a piece of solid wood maintained in an environment you know has been stable (your office or home) by following steps 3-7 below.

NOTE: Scan and pin meters can produce erroneous readings even if they are brand new or were recently calibrated by the manufacturer.

To confirm your invasive and non-invasive meters are providing accurate measurements follow the steps below.
---
1- Calibration check for Pin or Scan Meter
Ligno Scan Meter Calibration Block ($63.00)
Tramex MRH 111 Calibration Check Box
($77.00)
---
2- This Delmhorst TotalCheck moisture meter is calibrated:




Calibration Readings 12%
Calibration Readings 22%
3- Measure Temperature and Humidity at floor level
(away from exterior doors and walls)
4- Calculate EMC using the current Temperature and Humidity
---
5- If the environment has been consistent with the current Rh/Temp, according to EMC, the wood's moisture content should be around 6.4%.
(Keep in mind, the wood's moisture content will vary slightly from board to board, and on different areas of a single board.)
6- Using a Delmhorst TotalCheck set on Doug Fir, MC of the plank below measured 6.0%-6.2%

7- Moisture readings of 6.0%-6.2% indicate:
The wood is at EMC (close to 6.4% from the EMC calculator above)
EMC and wood moisture readings indicate the temperature and humidity has been consistent for a period of time
EMC confirms the meter is reading accurately and the moisture meter was handled properly.
More readings can be taken with confidence that the meter is accurate and the user (inspector) is performing the tests correctly.


---
Delmhorst meter set on Douglas Fir
&
Ligno meter set on Douglas Fir @1/4″ depth
The Ligno is reading incorrectly in comparison to the Delmhorst and EMC
Ligno SDM Chart: 46 Doug Fir

Ligno SDM set on Douglas Fir [46] is

4% off

(more about this below)
Delmhorst set on Douglas Fir is reading accurately
---
The Ligno read correctly when changed to the "0" (relative setting) @ 1/4″.
This is what we're looking for!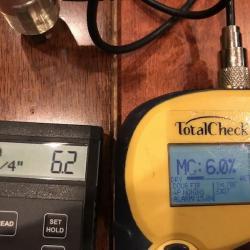 ---
9- The following shows accurate Tramex Pin moisture readings and comparable Ligno SDM readings- This is what we're looking for!

Close moisture readings that are consistent with EMC= Accurate and justifiable moisture tests.

NOTE: The Ligno may need to be set to "0" if the specific species setting doesn't produce accurate readings.

Tramex: 9.3%

Ligno SDM: 9.4%
---
Lesson Learned
Flooring inspectors and installers can't assume their meters are working properly.
Moisture meters must be calibrated, used correctly, and checked for every installation or inspection.
Multiple moisture readings may be taken with a scan meter once you know the meter is reading accurately.
If the moisture content of a board deviates from the norm, use a pin meter to verify the board's moisture content.
.
Learn More Online at Certified Flooring Inspectors University