Looking to get certified as a Carpet-Flooring Inspector? Check out the details on this page: Get Certified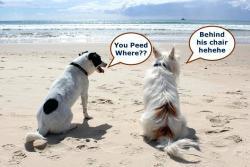 You found the perfect house. It looks clean, and well maintained, and it's just what you were looking for. But before you move in, you should know if the carpet is contaminated with pet urine, mold, or moisture. If you're purchasing a previously owned home, don't take any chances with your family's health— hire a Certified Carpet inspector to identify potential carpet problems.
Not all urine will show up as a visible stain, since the carpet may have been spot cleaned or professionally cleaned. Urine provides an environment for mold to grow and bacteria to flourish.
You may think the carpet looked fine when you visited the house, but did you know that odors can be cleverly disguised with air fresheners, potpourri, baking cookies, or burning candles? Professional or DIY Carpet Cleaning may remove some of the odor and topical discolorations, but won't remove pet urine from the carpet's backing, pad, and subfloor.
The real problem is, that once a carpet is contaminated with pet urine, the odor will return and linger long after the seller is gone and the cost of replacement will be up to you. Urine residue contains salt crystals that draw moisture from the air, especially when humidity is high. These crystals gas off, resulting in unpleasant urine odors in the home.
Since carpet and flooring inspections are a specialty field, a home inspector will only include obvious problems like large stains, holes, or tears in their report. The only way a prospective home buyer will know if the carpet in the house they're buying or renting is safe for their babies and young children to lay and play on is by having the carpet inspected by a professional Certified Carpet Inspector.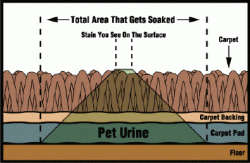 A Certified Carpet Inspector will inspect for:
Pet urine
Dampness, wet areas, mold
Carpet problems you be unaware of

Certified Flooring Inspectors University:
Ricky Bunker 843-222-1029
Linda Lockwood 609-660-1717