Looking to get certified as a Carpet-Flooring Inspector? Check out the details on this page: Get Certified
ertified Flooring Inspectors University [CFIU] provides training for flooring inspectors and flooring professionals.
Our training includes methods for test cleaning floor products. We recommend Isopropyl Alcohol (IPA) for cleaning tests on wood, laminate, and luxury vinyl flooring because it dries quickly, it's readily available, safe to use, and it's an effective solvent.
Recently, we have seen a new issue with spots and streaks on wood flooring that required a specific strength of IPA for accurate test results. Read more about this below…..
ISOPROPYL ALCOHOL [IPA]
Alcohol is sold in many forms: isopropyl, methyl, wood, ethyl, and denatured alcohol. For the purpose of this article, we'll be discussing Isopropyl and Denatured Alcohol.
Isopropyl alcohol is also known as isopropanol or IPA. Pure isopropyl alcohol does not contain denaturants. The percentage marked on the bottle represents the percentage of pure alcohol, i.e. 50% bottle contains 50% pure alcohol and 50% water. The lower the alcohol percentage the higher the water content. Moisture evaporation [drying time] takes longer at lower percentages.
50% -60% is not recommended for inspection purposes

70% removes common polishes found in Mop N Glo and other clean/shine products. Heavier build-ups will require more work to remove.

91% will evaporate the fastest and was successfully used on the following new issues found during inspections.
DENATURED ALCOHOL
Denatured Alcohol is commonly used for cleaning, degreasing, and fueling camping stoves. Denatured alcohol is not available in Canada. Denaturants are added to discourage human consumption. The amount and percentage of the ingredients vary according to the manufacturer and most MSDS Safety Sheets don't list the exact percentages. For instance, Klean Strip Denatured Alcohol contains 30-50% Ethyl alcohol and 40-60% Methanol (wood alcohol). Denatured Alcohol is safe to use, and may be used if 70% and 91% IPA fail to provide good results. However, the strong odor of denatured alcohol may be objectionable to the consumer. Denatured Alcohol Safety Warnings:
Always wear gloves while using denatured alcohol
Keep away from children and direct sunlight or open fires
Store in a cool dark place
Use in well-ventilated areas
Avoid direct contact with the skin, eyes, and face
SPOTS ON WOOD FLOORING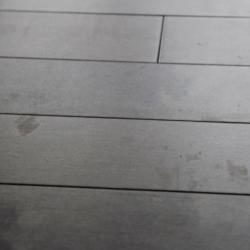 A new 3/4″ factory finished, random length, solid wood flooring was installed nail-down, over wood subfloors. No adhesive was used in the installation. The wood flooring exhibited spots and streaks in random areas throughout the house and the spots/streaks were noticed immediately after installation. The contractor thought the spots were topical and would just clean off. However, after three months of cleaning, the spots did not change or improve using the manufacturer's recommended cleaning procedures.
When it became evident that the spots were not coming off, a complaint was filed with the retailer. The homeowner believed the spots were in, or under the finish. The retailer hired an inspector believing there was an issue with the factory-applied finish.
Upon inspection, dull spots and streaks were observed throughout the house. The spots and streaks did not cross the joints from plank to plank indicating they were not caused by the homeowner.
The inspector attempted to clean multiple spots using a white cloth dampened with 70% IPA. The IPA removed a small amount of topical soil but did not remove, or improve the spots and streaks.
Planks removed from a sealed carton were inspected and found to have spots and streaks similar to those found on the installed floor. 70% IPA was used on these spots but they could not be removed.
One plank (from the closed carton) with a spot/streak was taken by the inspector for further cleaning tests. The spot was completely removed using a white towel dampened with 91% IPA.
To be sure 91% IPA would remove the spots on the installed floor, the retailer returned to the customer's house to clean more planks. The results were the same, the spots/streaks that could not be removed with 70% IPA were easily removed with 91% IPA.
Since the planks were coming out of the box with similar spots and streaks it was determined they occurred at the factory. Because this was a random-length product, the flooring was likely boxed by hand. It appears the spots were caused by contaminants on someone's hands when the planks were being sorted and boxed.
LESSON LEARNED
We have learned that using lower strength alcohol (IPA) may cause negative results leading an inspector to believe spots and streaks are in, or under, the factory finish. If the proper products aren't used when testing, the inspector's findings could be wrong.
If the inspector's findings are wrong, the manufacturer may be replacing a floor that could have been easily serviced.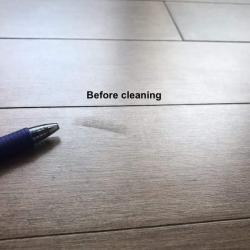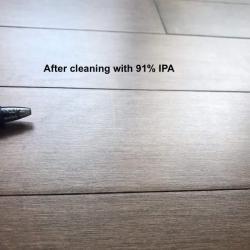 RECOMMENDATIONS
For flooring inspectors using isopropyl alcohol for cleaning tests; don't bother using solutions lower than 70% since your cleaning tests may give false results.

70% should work for most polish contaminants.
Keep 91% on hand for testing when 70% doesn't work.
BOTTLE STORAGE
To prevent bottles from leaking, place a piece of plastic wrap, or a sandwich bag over the bottle opening before screwing the cap on.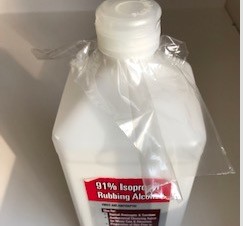 Certified Flooring Inspectors University:
Ricky Bunker 843-222-1029
Linda Lockwood 609-660-1717