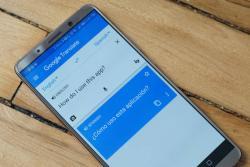 Flooring inspections can be challenging enough, but when we're trying to communicate with a consumer who doesn't speak our language, even the simplest conversation can be difficult.
Before Smartphones, flooring inspectors had difficulty when communicating with non-English speaking consumers. We pointed, made drawings, hand signals, and played Charades until one, or both of us gave up. We often left the inspection without the information our commissioning parties ask for, and without being able to explain the process to the consumer. It was frustrating for all involved!
Well, folks, there's an App for that!
Translation Apps are available for iPhones and Androids, and they work great! You can speak into your cellphone, and play the comment or questions back in the consumer's language. While the apps aren't perfect, they're good enough to get the message across and not leave everyone frustrated.
We've tested and found Google Translate works well, it's free and it has and it has 103 different languages. Microsoft Translator claims to have over 60 languages. Other translators are available for purchase, or by monthly subscription.
Google Translate allows you to speak to text, then the app will read the message out loud on your cell phone.

Certified Flooring Inspectors University:
Ricky Bunker 843-222-1029
Linda Lockwood 609-660-1717