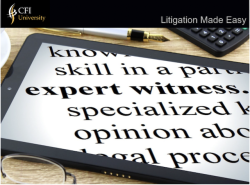 A one-time price of
$150.00
will be added to your order.
Like it or not, every Certified Flooring Inspector will end up in litigation. This may scare some, but the good news is, less than 5% of the cases make it to court and the expert is paid for their work during the litigation process. Those who become involved in litigation will benefit simply because understanding the process and language, and keeps them from making mistakes, or being taken advantage of by unscrupulous people (yes, even attorneys).
To help Flooring Inspectors understand the process, Certified Flooring Inspector University [CFIU] is offering an online course "Litigation Made Easy". This course explains the litigation process from start to finish, including "Legal Lingo".
Flooring Inspectors are considered experts through their education, training, and experience. It is essential that an expert be able to communicate vital information in an effective manner to maximize its value. Litigation Made Easy includes the do's and don'ts one must know to be a successful expert witness.
Litigation Made Easy was specifically designed to teach flooring inspectors how to become effective expert witnesses and produce income from other areas within the litigation process.